Posted by Mister JTA on February 2nd, 2012 |
5 comments
This post proposes to be bigger on the photos than the words, and brief nevertheless. Still, time I did an update.
Ruth & I postponed honeymooning after the wedding, going for a more traditional 'save up for a bigger one later' motif, which had the added benefit of giving us time to learn German first.
Then we decided not to go to Germany after all, and spent one week at a spa in Wales, and one in La Clusaz, a ski resort in France. I tried skiing in Chamonix with Gareth & Penny a few years back, and crippled my knees something shocking; given the unhelpful twist my shins make it's about twice as much work for me to snowplough as it is for everyone else, which severely hampered my capacity to enjoy it.
Then last spring we went out to visit Owen in Meribel, where I continued to think the Alps are amazing, but was too busy with reading for my Diss to try and improve things (besides which, last year was afwul for snow late season). While we were out there, though, we met some awesome people who put the case that I should try snowboarding as something liable to combine the fun going-fast-downhill-with-spectacular-views bit of skiing with all the reduced horrific-boots-and-knees-discomfort of boarding.
So we took a couple of intensive jump-start lessons at Milton Keynes and duly headed out in search of some actual mountains.
After a lesson, and looking consequently tired. Also slightly distracted by the two people in the background who, if I remember rightly, couldn't agree on whether or not Savoie belonged to the Nords.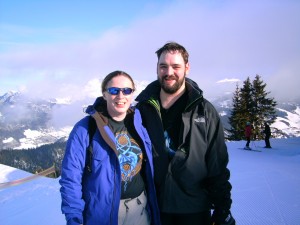 It was really good. Button lifts confounded me all the first day, and I fetched myself a whacking great bruise when I came straight down on my tailbone, and when we had a powder day I had to take my hired board back for a wax, but Daniel, our awesome mountain/ice/anything that looks insanely hard work-climbing instructor did a really good job and I was doing pretty damn well by the end of our booked lessons on Wednesday (we wanted some free time to relax, too!). Plus there is something tremendously satisfying in going fast enough to create the sensation of wind whilst not on some mechanical thing.
I don't remember exactly what Daniel (in blue) is saying here, but I am 100% sure it is either 'tourne, tourne,' or 'compass!'. Awesome guy.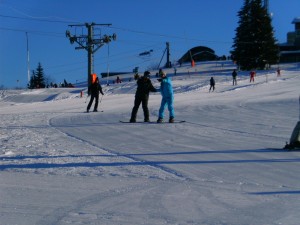 So aye, after a few years of feeling thoroughly grumpy because I wasn't physically cut out for skiiing I have found a snowsport that fits! Give me a while to save up, and I shall have to get back out there (althoughI'm also thinking a post-season return to MK to keep my hand in wouldn't hurt, either…)
Also, our chalet was awesome, which does make a difference. Plus, we got some killer views from the balcony, particularly in the sun towards the end of the week:
Just behind my head is the gondola up to the Beauregard Plateau, with the tail end of the long black run La Noire to its left. At right, the blue Guy Périllat also returns from Beauregard whilst Les Riffoids is a very gentle nursery slope.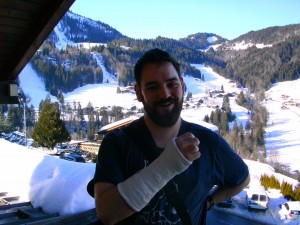 Oh… Yeah. Also I fell somehow and apparently rolled over my own wrist and fractured the only rarely buggered pisiform bone. Apparently you can tell it's broken on an X-ray, if you avoid the pitfall my lovely French doctor fell into and don't get too distracted by my weird knuckles.
Not Owning a lightbox, I had to jury-rig one with a velux window. I'm pretty sure there aren't really any trees visible in my bones.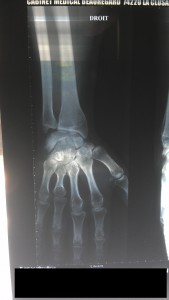 Breaking the right wrist turns out to be a bit of a bugger, since my left arm is not only fairly malcoordinated but also unused to work, and liable to get tired quickly. And I can't hold books properly at the moment. So I have bought a Kindle.
Mmm. We'll see how that goes. But, in the event I turn out to like it, having one will save a significant quantity of luggage space next time we go out, which I can instead devote to the wrist guards they told my not to buy in Milton Keynes (don't get me wrong, my doctor was awesome, but was totally cheated out of a run down Périllat, and that wants fixing…)
And that is what I did on my holidays. Which is a good title, because writing with my left hand does make it look like I'm back in Mrs Sutton's class again…